Planning a trip to the beautiful island of Langkawi in Malaysia? Look no further than Langkawi Roro Ferry Services for a convenient and reliable way to get there. We offer a hassle-free booking experience and a range of options to suit your travel needs.
Route and Dates
Route: Operate a round-trip service between Kuala Perlis and Langkawi, ensuring you can enjoy the scenic journey to this tropical paradise.
Departure from Kuala Perlis to Langkawi.
Return from Langkawi to Kuala Perlis.
Vehicle Options
Langkawi Roro Ferry understand that your journey may involve various vehicle types, and have you covered with competitive fares and port charges.
Car: Whether you have a compact car or a luxury vehicle, we have options for you.

Car below 1500cc: Fare of MYR 280.00 + Port Charge of MYR 42.00.
Car below 2000cc: Fare of MYR 336.00 + Port Charge of MYR 42.00.

Motorcycle: From smaller bikes to powerful ones, choose the one that suits your needs.

Motorcycle below 125cc: Fare of MYR 100.00 + Port Charge of MYR 14.00.
Motorcycle 500cc and above: Fare of MYR 210.00 + Port Charge of MYR 25.00.
Passenger Options
For a comfortable journey, we have passenger options for all age groups.
Adult: For passengers aged 12 years and above, the fare is MYR 42.00 with a Port Charge of MYR 7.50.
Children: For kids below 12 years, the fare is MYR 32.00 with a Port Charge of MYR 3.80.
Infant: If you're traveling with an infant (below 2 years old), the fare is just MYR 6.00 with no Port Charge.
Special Passenger Tickets
Langkawi Roro Ferry also offer special tickets for senior citizens (60 years and above) and persons with disabilities. Additionally, if you wish to travel one-way during your round trip booking, we have options for that too.
Check Availability
Our user-friendly interface allows you to check seat availability for both the outward and return journeys. Keep in mind that actual departure and arrival times may vary depending on water levels and weather conditions.
Book Your Journey to Langkawi
Langkawi Roro Ferry Services ensures your trip to this tropical paradise is as smooth as possible. We offer competitive fares, a range of vehicle and passenger options, and a seamless booking process. Don't miss out on experiencing the stunning beauty of Langkawi:
Langkawi Roro Ferry Services Sdn Bhd
Mobile: 013 – 749 5881 / 013 – 721 3881
WhatsApp : 013 – 749 5881 / 013 – 721 3881
Tel : 04-966 9881
How To Get To Langkawi:
BY FLIGHT Hopping on a flight to Langkawi is the easiest and fastest way to get there. Just book a flight directly to Langkawi International Airport is located at the south-western part of the island. There are no public buses or trains in Langkawi, you will need to either hop on a private transfer or book a taxi/e-hailing service upon arrival. Travel Duration: – Kuala Lumpur <> Langkawi: 1 hr ± – Singapore <> Langkawi: 1 hr 25 mins. ± – Penang <> Langkawi: 35 mins. ±

BY FERRY An alternative would be for you to drive up to Kuala Kedah or Kuala Perlis for a ferry ride to the island. The journey from these locations to Langkawi typically takes about 1 hour depending on sea conditions. Travel Duration: – Kuala Perlis <> Langkawi Kuah: 1 hr 15 mins. ± – Kuala Kedah <> Langkawi Kuah: 1 hr 45 mins. ± – Satun / Koh Lipe, Thailand <> Kuah: 1 hr 15 mins. ±

BY RO-RO FERRY If you enjoy traveling in your own personal vehicle, the process is completely hassle-free. Online booking must be made 3 days before the date of travel with full payment. RORO ferry provides service transporting wheeled vehicle and passenger. Make sure you are well prepared with all the necessary documents before heading to the entry point at Kuala Perlis Terminal. Travel Duration: – Kuala Perlis <> Langkawi Kuah: 2 hrs 30 mins ±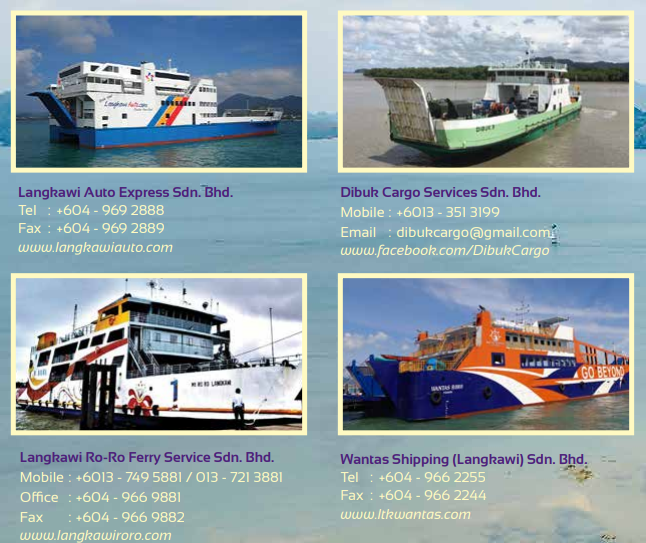 Condé Nast Traveler readers rank: Top Islands: Readers' Choice Awards 2023:

Asia
Bali, Indonesia 91.08
Koh Samui, Thailand 91.07
Boracay, Philippines 90.74
Phuket, Thailand 90.33
Langkawi, Malaysia 90.19
Palawan, Philippines 89.71
Sri Lanka 89.59
Phú Quốc, Vietnam 88.89
Okinawa & Ryuku Islands, Japan 88.25
Siargao, Philippines 87.37