Travelers driving foreign registered cars and motorcycles must apply for a vehicle entry permit or VEP on LTA's one motoring website. To show proof of valid VEP, travelers must have a LTA's approval email and a valid auto pass card before entering Singapore. Travelers will not be allowed to apply for a VEP at the checkpoints.
Check that your passport has at least six months validity.
In order to enjoy quarantine free travel, proof of vaccination is required. If you are vaccinated in Singapore, your vaccination certificate will be known in ICA system.
But if you are vaccinated overseas, do upload your overseas vaccination certificate via the SG Arrival Card. Number the SG Arrival Card is required for all travellers to Singapore. Local or foreign, young or old. You may submit it up to three days before arriving in Singapore.
This is the official link to the SG Arrival Card. It is free of charge. If you are a Singapore citizen, permanent resident or long term pass holder, click here. If you are a foreignvisitor or in principle approval IPA holder, click here. The SG Arrival Card requires inputs for three simple topics. Personal particulars, trip details and a health declaration. Personal particulars includes declaring a valid email address and mobile number.
Trip details includes declaring your date of arrival, mode of travel and details of accommodation in Singapore. Do note if you are travelling by bus you may key in bus as the vehicle plate number. Health declaration includes declaring your recent travel history and health status.
Do note if you an overseas vaccination certificate, you only need to upload the QR code. Once you have submitted the SG Arrival Card, you will receive the following acknowledgement via your declared email. Do note that the paper disembarkation or embarkation card also known as the white card has been discontinued and is no longer accepted in Singapore. Here is a quick recap of the four items.
Singapore Citizen
Permanent resident singapore
Long Term Pass Holder
Foreign visitors
SG Arrival Card
(Submit 3 days Before)
✅
✅
✅
✅
Vaccination Certificate
✅
✅
✅
✅
Passport With at least 6 Months Validity
✅
✅
✅
✅
Valid Vehicle Entry Permit
❌
❌
✅
✅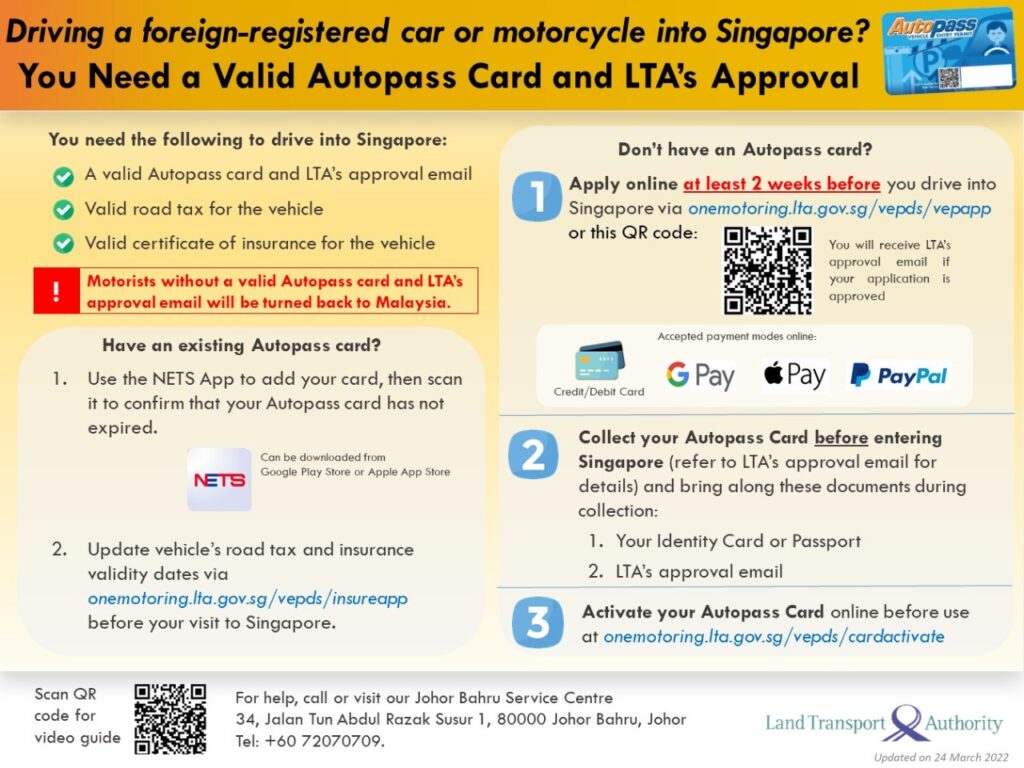 To keep or use your vehicle in Singapore, you must meet these requirements:
1. Your vehicle must have valid road tax, vehicle insurance (with third party coverage), Autopass Card and LTA's approval email.
2. When entering or exiting Singapore via the land checkpoints, you will need to use your Autopass Card to record your visit and pay entry and exit fees and charges.
3. Your vehicle has a valid Vehicle Entry Permit (VEP). VEPs have validity period of 14 days which starts on the date of the vehicle's entry into Singapore, and thereafter on the date of payment during VEP renewal. To extend your vehicle's stay in Singapore, you will need to renew your VEP.
4. You will need to pay Electronic Road Pricing (ERP) charges if you use ERP-priced roads during ERP operating hours. There are several payment methods available for cars and motorcycles.
5. You will need to settle all outstanding fines for your vehicle. (You can check online at www.axs.com.sg for outstanding offences.)
6. Use our calculator to check your entry and exit fees and charges to ensure that you have sufficient funds in your Autopass Card.
7. If you have made VEP fees payment and extension via AXS, please refer to your AXS payment receipt for the vehicle's 14-day VEP validity start date and extend the VEP 2 days before its next expiry.
8. You do not belong to any of the following categories:
Singapore Citizen
Singapore Permanent Resident (PR)
Resident of Singapore
Long-Term Visit Pass or Dependant's Pass holder
Student's Pass holder
Training Employment Pass or Work Holiday Pass holder
Work Pass holder who is also a resident of Singapore
VEP processing time : 3 weeks
Planing on a road trip to Malaysia