动力火车 Power Station World Tour in Malaysia 2023.
Date: 23 Sep 2023, 8:00PM
Location: Axiata Arena Bukit Jalil (Stadium Axiata Arena)
Axiata Arena Bukit Jalil , L2-E-10, Enterprise 4, Technology Park Malaysia, Lebuhraya Bukit Jalil, Bukit Jalil, 57000 Kuala Lumpur.
After the two days encore concert in Taipei, Power Station had announced during their celebration party that they are coming to Malaysia on 23rd September for their world tour!
Organized by ACO Media, co-organized by Metalive World and Star Planet, Power Station World Tour Concert in Malaysia will take place on 23rd September 2023 (Saturday), on 8:00 PM, at Axiata Arena in Bukit Jalil, Kuala Lumpur. Get ready to relieve the classic memories and stimulate your brain cells! We believe that in your youth, there must be a song by Power Station that resonates you! "Dang", "Chu Le Ai Ni Hai Neng Ai Shui", "Bu Gan Xin Bu Fang Shou", "Zhong Xiao Dong Lu Zou Jiu Bian", "Cai Hong" or "Wai Tao", regardless of which song it is, it may be the song that reveals your lost self in love. Each and every Power Station style of love song finds its way to your tears and sadness! Let's sing out loud together, and express your joys and sorrows in the concert!
On this train to "love", it will take you to listen to those deep emotions that were squeezed into the depths of your heart by years and fleeting moments. Have you ever really cherished yourself and love yourself enough? Looking back at your youthful days, have you ever loved, been hurt, or even hurt any others? Are those unspoken bitterness and sweet feelings still unresolved yet? Through Power Station's songs, we can bravely and loudly sing out and make a confession and peace to ourselves.
After expressing your joys and sorrows, you will look at your past self, smile at how far you've gotten and be grateful for the experiences that have made you a better version now. Gently say to yourself, it is all "Because of Love".
动力火车 Power Station World Tour in Malaysia 2023 Ticket Price
| | |
| --- | --- |
| Ticket Category | Normal Price |
| VIP | 938.00 |
| CAT 1 | 838.00 |
| CAT 2 | 738.00 |
| CAT 3 | 638.00 |
| CAT 4 | 438.00 |
| CAT 5 | 338.00 |
| CAT 6 | 238.00 |
动力火车 Power Station World Tour in Malaysia 2023 Ticket Price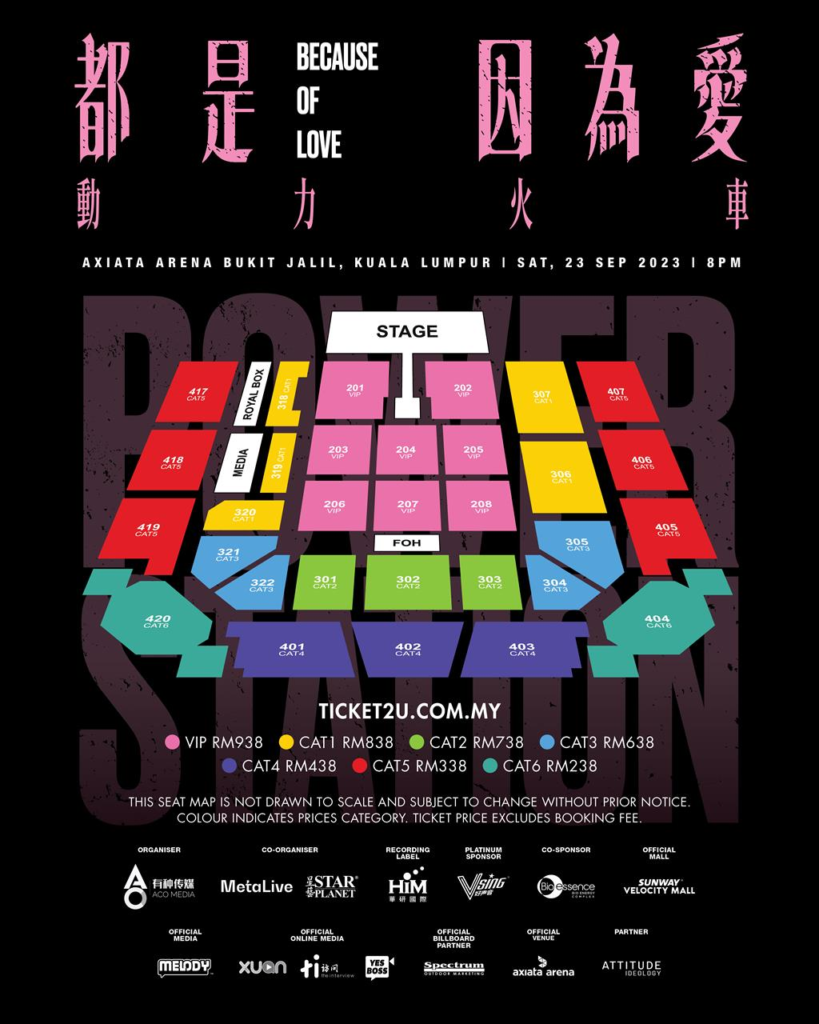 经典响起瞬间回忆杀!动力火车首度在马来西亚挑战万人吉隆坡亚通室内体育馆,两人将带来全新巡演《都是因为爱》,约你9月23日,晚上8点,一起high爆现场!