Book Chinese New Year 2024 Bus Ticket Online. The most anticipated celebration of the year is fast approaching, and it's time to plan your journey home for Chinese New Year 2024! Don't wait until the last minute to secure your bus tickets from Singapore to Malaysia. Beat the rush, avoid the hassle, and ensure a smooth travel experience by booking your tickets online today.
Chinese New Year 2024 fall on 10 FEB Saturday
How to Book: Booking your Chinese New Year 2024 bus tickets from Singapore to Malaysia is a breeze. Here's a step-by-step guide:
Visit a Reputable Online Booking Platform: Choose a trustworthy online bus booking platform that offers routes between Singapore and Malaysia.
Select Your Origin and Destination: Enter "Singapore" as your departure point and "Malaysia" as your destination. Specify the city or area in Malaysia you wish to travel to.
Choose Your Travel Dates: Pick your preferred departure and return dates. Ensure they align with your Chinese New Year plans.
Select the Number of Passengers: Indicate the number of passengers traveling with you, including adults, children, and infants.
Browse Available Bus Options: Explore the available bus operators, schedules, and prices. Take your time to compare options and select the one that suits you best.
Choose Your Seats: Select your preferred seats, if available. Ensure they meet your comfort and accessibility preferences.
Payment and Confirmation: Enter your payment information and complete the booking process. Once confirmed, you'll receive an e-ticket via email.
CNY 2024 Singapore To Malaysia Top Destination:
Kuala Lumpur, Malacca, Ipoh and Penang
Bus Company From Singapore to KL:
Billion Stars
City Express
ELTABINA EXPRESS
Golden Coach Express
KKKL Singapore
Luxury Coach Service
Star Qistna
The One Travel & Tours
Bus Company From Singapore to Ipoh:
ELTABINA EXPRESS
Golden Coach Express
KKKL Singapore
Sri Maju Group
Star Qistna
Starmart Express
Super Nice Grassland
The One Travel & Tours
Bus Company From Singapore to Malacca:
707 Inc
KKKL Singapore
Star Qistna
Starmart Express
WTS Travel & Tours Pte Ltd
Transtar CNY 2024 Tickets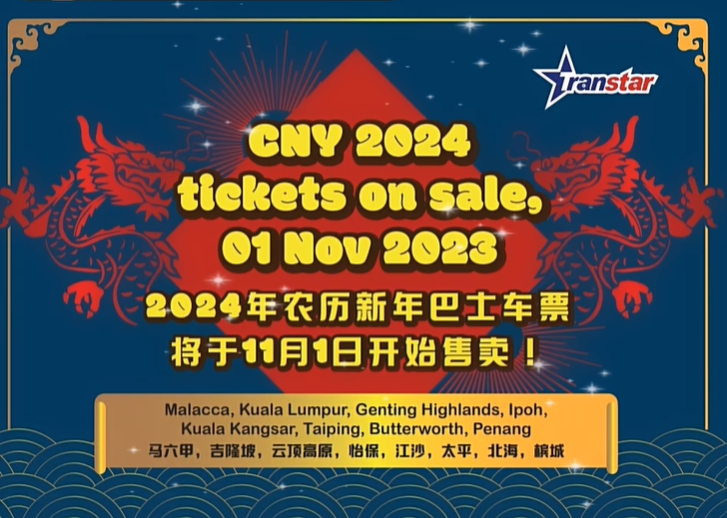 Bus to Malaysia Promo Code
Easybook Discount Code: EBNEWSG
Good news for easybook new user! Please register as a new member and book bus tickets now! You can get 26% discount + 26% reward cash when booking bus tickets with ' EBNEWSG ' discount code!
BusOnline Discount Code: BOTNEW:

Valid for new member with verified phone number only.
Valid for member's first-time booking only.
Instant discount offer is limited up to RM5 / S$5 only.
Plan Your Exciting Singapore School Holiday 2024 Adventure! Discover Top Activities and Destinations for an Unforgettable Vacation