Escape to a captivating Mid Autumn Festival getaway with our exclusive Batam Package, meticulously designed by EU Holiday. Immerse yourself in the rich cultural heritage of Batam while indulging in a delightful blend of relaxation and exploration. With unbeatable value starting from SGD 298.00, this 2-day escape promises an unforgettable experience.
Package Highlights:
Luxurious Accommodation: Enjoy a rejuvenating stay at the renowned Harris Resort Waterfront, where comfort meets style. Wake up to stunning views and modern amenities, ensuring your ultimate relaxation.
Culinary Delights: Indulge in daily breakfast and a captivating Mid Autumn Theme Dinner at Harris Resort Waterfront. Be entertained by the mesmerizing KELE performance, featuring a Mediacorp artiste.
Pampering Treats: Recharge your senses with a complimentary 60-minute Traditional Massage for adult guests, or savor the original flavor of 1/2 KG of Kueh Lapis. Feel renewed and revitalized.
Thrilling Activities: Adventure awaits with complimentary choices such as Paintball Shooting (30 Bullets), Flying Fox, or Archery (15 Arrows) for child guests. Create lasting memories with exciting activities.
Shopping Extravaganza: Embark on a full-day Batam Shopping Tour, accompanied by a sumptuous Seafood Lunch. Discover local treasures, from Batik Factory Outlets to bustling markets.
Seamless Transfers: Travel hassle-free with two-way return ferry tickets by Sindo Ferries or similar, including seaport taxes. Enjoy shared coach transfers between the ferry terminal and the hotel.
Mid Autumn Celebration with KELE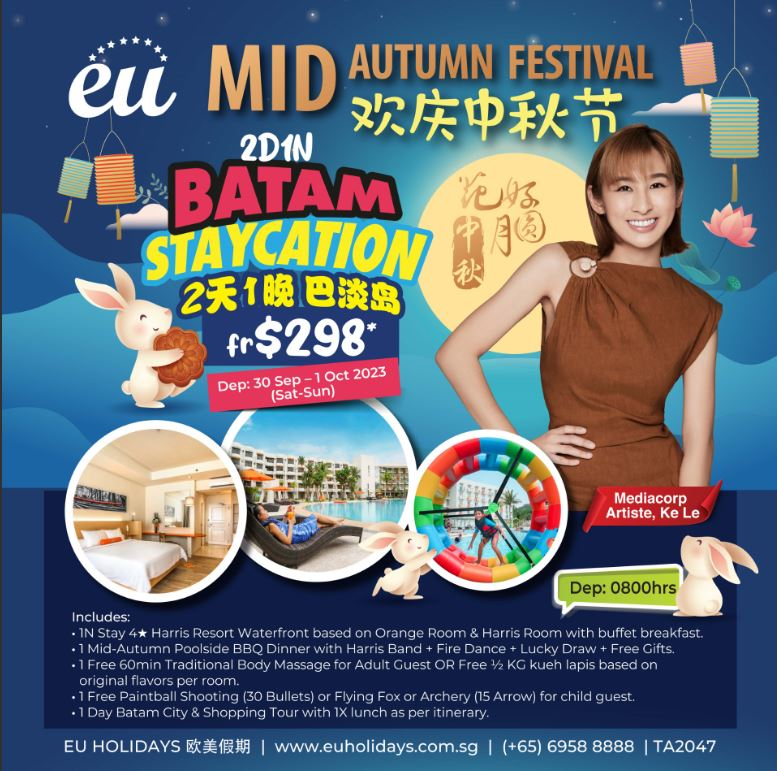 Package Exclusions:
Covid-19 Insurance Coverage: Stay protected with a minimum of S$20,000 medical coverage.
Guide & Driver Tipping: A nominal fee of S$4 per person per day ensures exceptional service.
Personalization: While our package is comprehensive, additional expenses of a personal nature are excluded.
Important Details:
Date: 30 September 2023
Infant Friendly: Even the youngest adventurers are catered for with ferry tickets required for infants below 24 months.
Seamless Travel:
Depart from Singapore Harbour Front Cruises Centre, Sindo Ferry #03-43, with a morning check-in at 0700hrs.
Return journeys from Batam Centre offer multiple timings, providing flexibility to your travel schedule.
Explore Batam's Charms:
Delight in iconic sites like Welcome to Batam Monument and Chengho Mosque.
Experience local craftsmanship at Kueh Lapis Factory and Batik Factory Outlets.
Uncover the treasures of Batam at Golden Factory Outlets and Polo Outlets.
Immerse yourself in the city's spirituality at Vihara Budhi Bakti Temple.
Engage in exciting activities like Go Karting and visit the vibrant Local Dry Market Shop.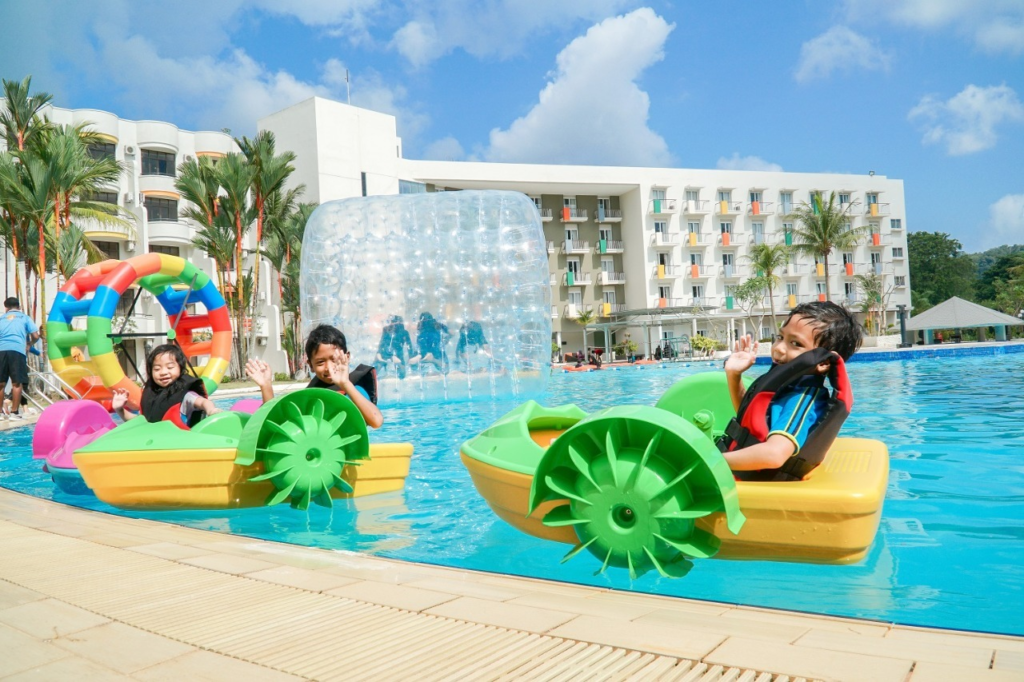 Experience the enchantment of the Mid Autumn Festival with EU Holiday's Batam Package. Book now for an unforgettable escape filled with relaxation, adventure, and cultural discovery. Don't miss this opportunity to create cherished memories with loved ones.