Step into the vibrant streets of Kuala Lumpur's Chinatown and embark on a delightful two-hour journey filled with captivating stories, cultural wonders, and mouthwatering flavors. This historic district holds the key to a bygone era, where traditions and crafts continue to thrive amidst a modern landscape.
Join our knowledgeable tourist guides as they unravel the fascinating tapestry of Chinatown's heritage. Prepare to be transported through time as they regale you with tales of past inhabitants and the resilient spirit of those who call this place home today. From skilled artisans preserving ancient trades to the vibrant pulse of the local community, every corner holds a treasure trove of captivating narratives.
As you wander through the labyrinthine streets, let your gaze wander to the elegant pre-war shophouses adorned with their original facades. These architectural gems bear witness to the district's rich history and provide a nostalgic backdrop for your exploration. And fear not, for our guides will be more than happy to point you towards the enticing array of eateries that await your indulgence. From sizzling street food stalls to hidden culinary gems, Chinatown is a gastronomic paradise that promises to tantalize your taste buds.
While Chinatown has long been renowned for its authentic Chinese cuisine, it has also embraced the fusion of flavors from the East and West. Prepare for a delightful symphony of taste as you discover the culinary creations that seamlessly blend traditional Asian recipes with a modern twist. Whether you crave the comforting embrace of a hearty bowl of noodles or yearn for a gastronomic adventure that pushes the boundaries, Chinatown is sure to satisfy even the most discerning palate.
But Chinatown isn't just about its captivating history and delectable food. It has evolved into a trendy hub, where modern cafes, bars, and restaurants have found their home. Witness the fusion of old and new as you explore the colorful streets adorned with vibrant murals, each one telling a story of the area's past and present. These artistic masterpieces capture the essence of Chinatown's character, inviting you to embark on a visual journey through time.
What sets our Chinatown walk apart is its interactive nature. Our guides foster a warm and engaging atmosphere, encouraging conversations and connections with local traders along the way. Feel free to pause and chat, immersing yourself in the vibrant energy of the community. And for our young participants, we make it a point to ensure their experience is just as memorable, catering to their curiosity and creating lasting memories.
As you wrap up your exploration of Chinatown, please keep in mind that our guides rely on tips to support their valuable work. The generosity of previous participants has seen an average tipping range of RM40 to RM60 per person, a token of appreciation for their exceptional storytelling and guidance.
So, lace up your walking shoes, open your heart to the allure of Chinatown, and join us for an unforgettable adventure through the heart and soul of Kuala Lumpur.
East- West Connection Free City Tour Kuala Lumpur Every Sunday at 9:30am
Starting Point: Cosmo Hotel Kuala Lumpur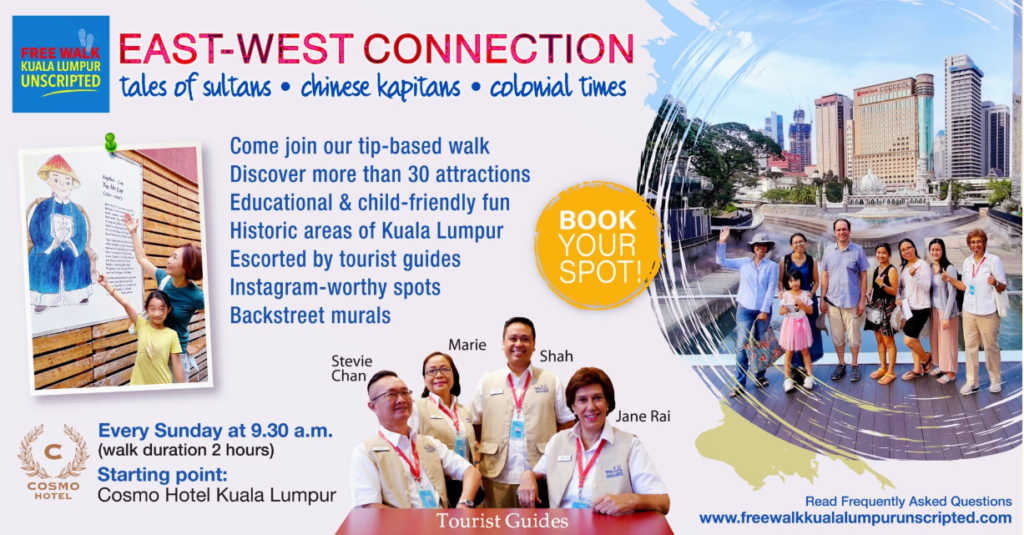 Chinatown Cultural Walk Free City Tour Kuala Lumpur Every Saturday at 10:00am
Starting Point: Four Points By Sheraton Kuala Lumpur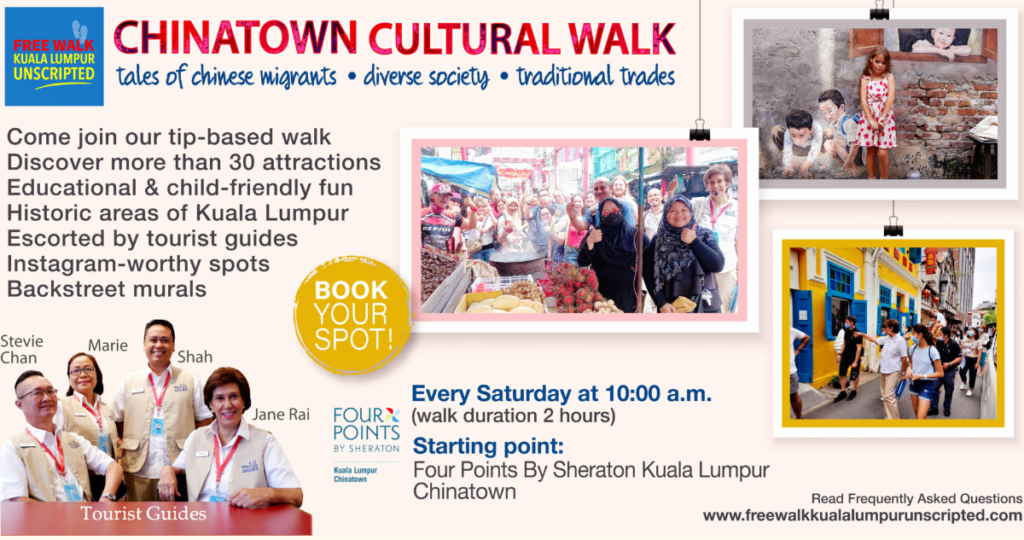 More info: Here
Free City Tour Kuala Lumpur Facebook
Best Bus from singapore to KL
Best Bus from Singapore to Malacca Malaysia