If you're a fan of delectable Malaysian treats, there's a piece of exciting news that's bound to tickle your taste buds. Guan Heong 源香, the renowned bakery that has long been synonymous with Ipoh's rich culinary heritage, has opened its brand-new store at the vibrant Genting Sky Avenue. Situated at T2C·01A & 01B, Level 4, this new establishment is set to be a haven for both tradition and innovation, offering a delightful range of treats that encapsulate the essence of Malaysia's flavors.
Guan Heong has become more than just a bakery; it's a cultural emblem, a gift of authenticity that Malaysians and tourists alike love to share with their loved ones. The bakery has taken the concept of souvenirs to a whole new level, presenting their treats as the quintessential Ipoh and Malaysian keepsakes. And now, with their latest store opening at Genting Sky Avenue, the delightful tastes of Guan Heong are even more accessible and tempting.
What makes Guan Heong truly exceptional is its unwavering commitment to heritage. With heritage as its guiding star, the bakery has consistently delivered the exquisite flavors that have made its Salted Tau Sar Pheah a household name. Biting into one of these treats is like taking a journey back in time, savoring the same authentic taste that has been cherished for generations.
But Guan Heong is not content with resting on its laurels. The bakery understands that to thrive in the modern culinary landscape, adaptation is key. That's why, alongside its timeless classics, Guan Heong has introduced a range of contemporary pastries that cater to evolving consumer preferences. Imagine indulging in the delightful crunch of Meat Floss Biscuit, the unique blend of flavors in Meat Floss with Salted Egg Biscuit, the savory satisfaction of Dried Meat Biscuit, and the tropical zest of Hawaiian Biscuit. The array of choices is as diverse as Malaysia itself.
Guan Heong's dedication to perfection has not gone unnoticed on the global stage either. In June 2017, the bakery's excellence was celebrated when it secured a spot as a Top 50 World Street Food Award Winner at the World Street Food Congress in Manila, Philippines. This international recognition further solidified Guan Heong's position as a culinary trailblazer.
So, whether you're a devoted fan of Guan Heong's traditional delights or eager to explore their modern creations, the new store at Genting Sky Avenue promises a culinary adventure that bridges the gap between the past and the present. With its heritage-driven excellence and forward-looking spirit, Guan Heong continues to define the art of indulgence in Malaysian confectionery. Make sure to pay a visit and experience firsthand the flavors that have captured the hearts – and taste buds – of many.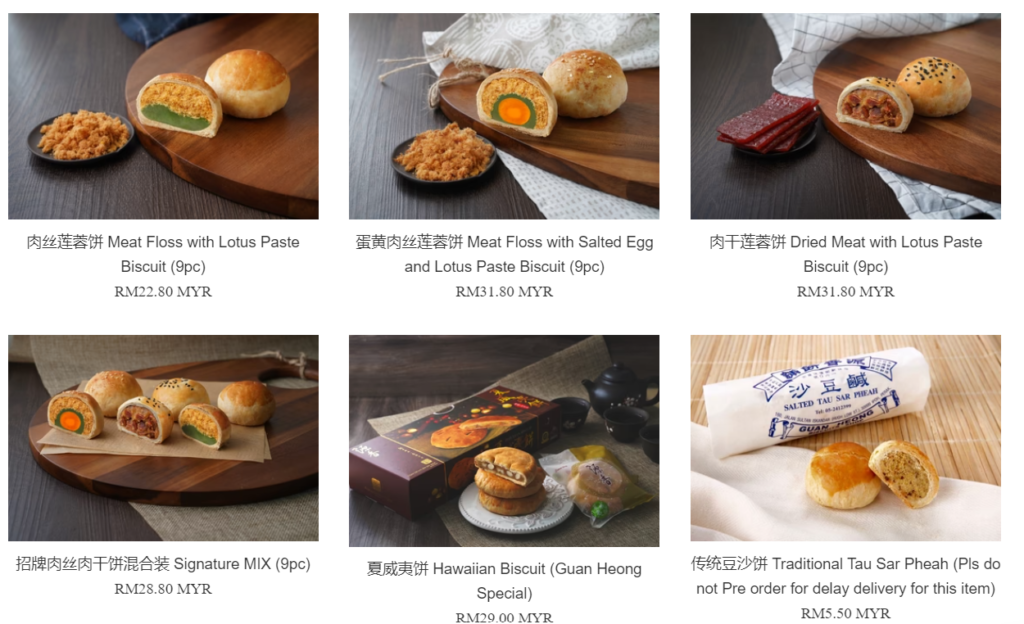 肉丝莲蓉饼 Meat Floss with Lotus Paste Biscuit (9pc)
肉丝莲蓉饼 Meat Floss with Lotus Paste Biscuit (9pc)
蛋黄肉丝莲蓉饼 Meat Floss with Salted Egg Biscuit (9pc)
蛋黄肉丝莲蓉饼 Meat Floss with Salted Egg Biscuit (9pc)
夏威夷饼 Hawaiian Biscuit (Guan Heong Special)
传统豆沙饼 Traditional Tau Sar Pheah
Guan Heong 源香 IG