Are you ready for a mouthwatering adventure like no other? Join us on an exciting journey through the tantalizing world of durians with the WTS Travel Durian Tour. Indulge in the richness of the "King of Fruits," the Musang King durian, while exploring captivating sights and flavors. Here's what you can expect from this one-day extravaganza:
Unmissable Packages for All! Adult 成⼈: S$99 | Child ⼩孩: S$93
Important Departure Dates 出发⽇期: August ⼋⽉: 05, 06, 09, 12, 13, 19, 20, 26, 27 September 九⽉: 02, 03, 04, 09, 10
A Day Full of Delights! Embark on an unforgettable journey as you travel comfortably in a luxurious 45-49 seater VIP coach. Our professional guide and coach captain will ensure a seamless experience throughout the trip.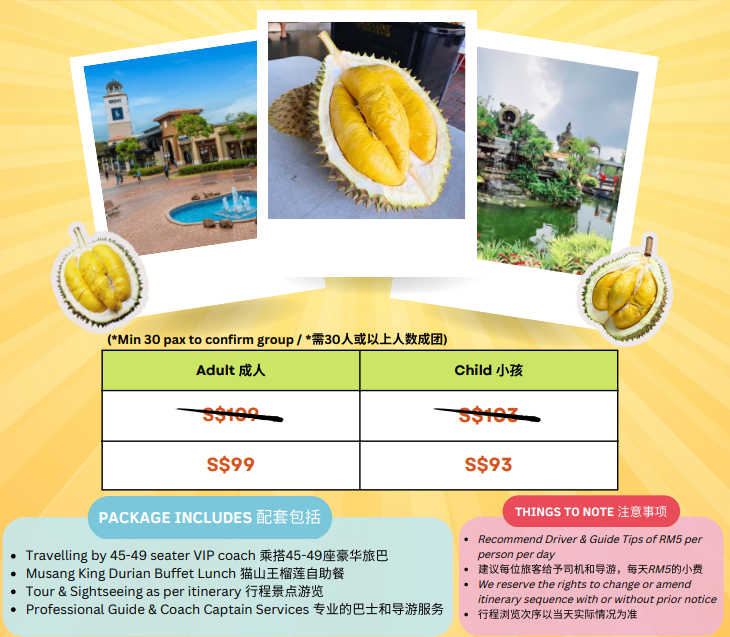 Highlights of the Itinerary ⾏程:
Begin your day with a scenic drive and smooth custom clearance via Tuas Checkpoint (Second Link).
Enjoy a hearty breakfast at Gelang Patah (Own Expenses) before starting your adventure.
Visit the renowned Fu Zhou Noodle Factory and explore the art of noodle-making.
Immerse yourself in the tranquility of Chee Ann Khor Temple and witness the majestic JIGONG statue, Malaysia's tallest.
Indulge in a sumptuous Musang King Durian Buffet Lunch, savoring the finest flavors of this revered fruit.
Discover the delightful offerings at Ming Ang Confectionery, where you can find delectable pastries.
Shop for premium snacks at Crystal Peanut King and take home the best of local delicacies.
Experience luxury shopping at its finest at Johor Premium Outlets, the first luxury premium brand outlet in Southeast Asia.
Explore the vibrant Mid Valley Southkey Shopping Mall, the newest shopping destination in town.
Convenient Assembly Points 集合地点:
Tampines MRT Exit B: 0500HRS (Departure: 0515HRS)
Yishun MRT Exit B: 0530HRS (Departure: 0545HRS)
Jurong East Venture Ave Bus Bay No. 3: 0600HRS (Departure: 0615HRS)
For More Information and Bookings, Contact WTS Travel