If you're a frequent traveler or just someone who enjoys staying connected while flying, there's fantastic news for you! Malaysia Airlines, known for its commitment to passenger satisfaction, is taking a bold step in improving the in-flight experience for all its passengers by offering complimentary Wi-Fi access, starting from November 1, 2023. That's right, free in-flight Wi-Fi for everyone, regardless of your cabin class or loyalty tier.
Free Wi-Fi for All
Up until now, many airlines have offered Wi-Fi, but it often came with a price tag or was limited to specific passenger groups. Malaysia Airlines is changing the game by offering unlimited and complimentary Wi-Fi service on selected widebody aircraft. This means whether you're flying Economy, Business Class, or any other class, you can now enjoy the convenience of staying connected throughout your journey.
Initially, this free Wi-Fi service will be rolled out on 20 selected widebody aircraft, and the airline plans to extend it to narrowbody aircraft in the future. So, no matter where you're flying or what aircraft you're on, you can look forward to seamless connectivity.
A New Era of Connectivity
This move builds upon Malaysia Airlines' earlier introduction of complimentary in-flight Wi-Fi for Business Suite and Business Class passengers, as well as Enrich Platinum members, which was introduced in July 2023. However, there was a data cap of 100 MB per flight segment at that time. With the new enhancement, that cap is gone, and all passengers can enjoy unlimited data.
Passengers no longer need to worry about purchasing Wi-Fi access or staying within data limits. You can easily connect your devices to the 'MHconnect' network and enjoy free in-flight Wi-Fi, whether you want to catch up on work, share your travel experiences on social media, or simply stay in touch with loved ones.
What the CEO Says
Ahmad Luqman Mohd Azmi, Chief Executive Officer of Airlines from Malaysia Aviation Group (MAG), expressed his delight about this groundbreaking offering. He stated, "We are delighted to extend our complimentary Wi-Fi offering to passengers across all travel classes, making us one of the first airlines to enable such convenience. In addition, unlike previous data capping, we now offer unlimited data, allowing guests to conveniently stay connected throughout their journey."
This customer-centric approach is a testament to Malaysia Airlines' dedication to providing a seamless, hassle-free, and enjoyable travel experience for its passengers.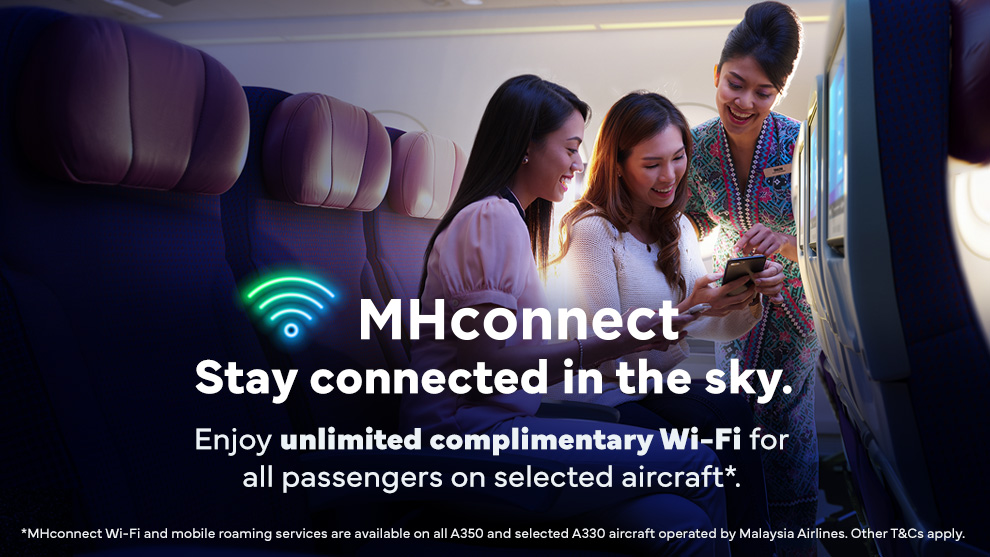 A Special Treat for Young Travelers
In addition to the free Wi-Fi for all passengers, Malaysia Airlines is taking an extra step to enhance the in-flight experience for young travelers. Starting from November 1, 2023, and while supplies last, children aged three (3) to eight (8) years old traveling on selected long-haul flights will receive a reusable Pilot Parker lunchbox set. This eco-friendly memento is an added bonus to the activity pack that young passengers already receive.
Airlines' Commitment to Passenger Comfort
These initiatives underline Malaysia Airlines' unwavering commitment to enhancing the customer experience at every touchpoint. The airline continues to invest in improving its services and amenities, including enriching the content available in its in-flight entertainment (IFE) offerings and enhancing its cabin experience. This dedication ensures that passenger comfort, convenience, and enjoyment are always a top priority.
So, the next time you fly with Malaysia Airlines, remember that free in-flight Wi-Fi is now available for all passengers. Stay connected, enjoy your journey, and make the most of your travel experience with this exciting new offering.
Step to connect free wifi Malaysia Airline
Enable "Airplane Mode"Please ensure that "Airplane Mode" is enabled on your device(s) before take-off. 
Connect to "MHconnect"When the aircraft reaches cruising altitude, open your Wi-Fi settings and connect to "MHconnect".
Insert your emailTo enjoy unlimited complimentary Wi-Fi, follow the steps on the screen and provide your email address. That's it. You're now connected.