NATAS TRAVEL FAIR FEB 2023 Expo. More than 35 Travel Agency & exhibitors.
Admission Free
Location : Singapore Expo HALL 5
Date: 24 – 26 Feb 2023
By Train / MRT (Mass Rapid Transit)
Singapore EXPO is served by two MRT lines: the East-West (Green) Line and Downtown (Blue) Line. You may travel by either line and alight at the Expo MRT station (CG1/DT35), which is located nearest to Foyer Two or Hall 6.
NATAS Travel Fair 2023 Feb Floor Plan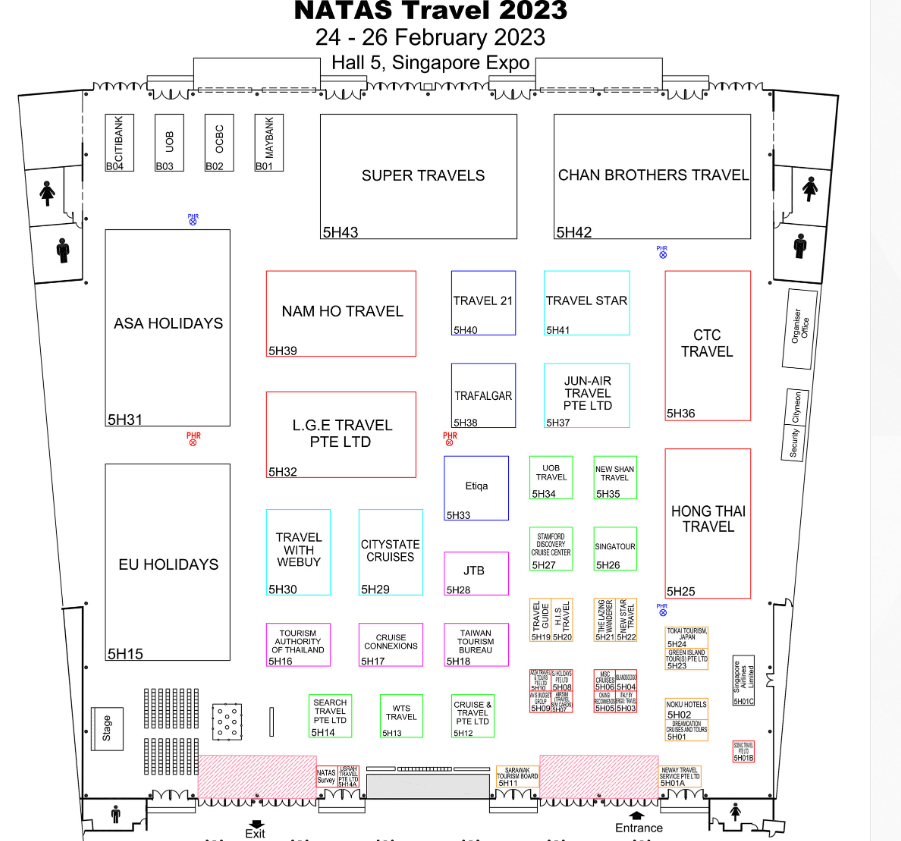 NATAS Travel 2023 (24 – 26 February) Singapore EXPO (Hall 5)

Cruises
1 Citystate Cruises 5H29
2 Stamford Discovery Cruise Center 5H27
3 MSC Cruises 5H06

Hotels & Resort
1 Noku Hotels 5H02

Travel Agents
1 ASA Holidays 5H31
2 Aviation Budget Group 5H09
3 Azza Travel & Tours Pte Ltd 5H10
4 Chan Brothers Travel 5H42
5 Changi Recommends 5H05
6 Cruise & Travel Pte Ltd 5H12
7 Cruise Connexions 5H17
8 CTC Travel 5H36
9 Dreamcation Cruises and Tours 5H01
10 EU Holidays 5H15
11 Green Islands Tours (S) Pte Ltd 5H23
12 H.I.S Travel 5H20
13 Hong Thai Travel 5H25
14 Islandsgogo 5H04
15 ITALY by ERGO: Travel 5H03
16 JTB 5H28
17 Jun-Air Travel Pte Ltd 5H37
NATAS Travel 2023 (24 – 26 February)
Singapore EXPO (Hall 5)
List is updated as at 2 February 2023
18 L.G.E Travel Pte Ltd 5H32
19 Nam Ho Travel 5H39
20 Neway Travel Service Pte Ltd 5H01A
21 New Shan Travel 5H35
22 New Star Travel 5H22
23 Scenic Travel Pte Ltd 5H01B
24 Search Travel Pte Ltd 5H14
25 SJ Holidays Pte Ltd 5H08
26 Singatour 5H26
27 Super Travels 5H43
28 The Lazing Wanderer 5H21
29 Trafalgar 5H38
30 Travel 21 5H40
31 Travel Star 5H41
32 Travel with WEBUY 5H30
33 UOB Travel 5H34
34 Usrah Travel Pte Ltd 5H14A
35 WTS Travel 5H13

National Tourism Organization

1 Sarawak Tourism Board 5H11
2 Taiwan Tourism Bureau 5H18
3 Tourism Authority of Thailand 5H16
4 Tokai Tourism, Japan 5H24

Travel Related
1 AIRSIM (Travel Sim Cards) 5H07

Bank
1 Citibank Singapore Limited B04
2 Maybank B01
3 OCBC B02
4 UOB B03

Official Travel Insurer
1 Etiqa Insurance 5H33
MACS 2.0 Travel To Malaysia for Singaporean
Singaporeans now can started using the e-Gate facility at the entrance of Bangunan Sultan Iskandar. MACS 2.0 Travel To Malaysia for Singaporean facility reduces waiting time for visitors and streamlines the Immigration clearance process.

What Is MACS E-gate 2.0 For singaporean travel to Malaysia
How To Apply MACS 2.0 Travel To Malaysia for Singaporean
Step 1: Fill up and submit Malaysia Digital Arrival Card (MDAC) within 2 days prior to arrival in Malaysia Here
Step 2: Upon Arrival At Immigration Counter to verify at manual counter
Step 3: Enrolled Visitor are now eligible to use malaysia E-gate
Information Require to Fill up MDAC
Name :
Passport No. :
Date of Birth :DD/MM/YYYY
Nationality / Citizenship : SINGAPORE
Sex :
Date of Passport Expiry : DD/MM/YYYY
Email Address :
Confirm Email Address :
Country / Region Code :