Singatour 1D Yong Peng & Kulai Durian Tour. Availability : 23, 30 July 2023
Embark on a delightful journey to Yong Peng, a familiar and welcoming town, with eager anticipation in your heart. Hop aboard a luxurious coach and let our charming and knowledgeable tour guide greet you. Let the day's itinerary commence with a series of culinary delights and sightseeing adventures. Welcome to Yong Peng, where we'll indulge in a feast for the senses!
✪ 06:00 am: Meet at People's Park Centre Taxi Stand or ✪ 06:30 am: Meet at Jurong East Venture Avenue coach stand 3&4 (Behind Big Box) Depart on a 45-seater coach to the 2nd link. After immigration clearance, switch to a Malaysian coach.
✪ Stop over for breakfast at your own expense. Start the day with a hearty meal (at your own cost). Yong Peng – a town synonymous with tranquility and safety. While it may not have many tourist attractions, it is a haven for food enthusiasts. The air is filled with the fragrant aroma of durians during the season. Indulge in as much durian as you desire, as it is both affordable and value for money.
✪ Proceed to Yong Peng for a durian buffet lunch, accompanied by curry chicken and mee hoon.
✪ Visit a local product shop after lunch. Don't miss out on the chance to explore an authentic local specialty store, where you can find a variety of delectable pastries and cakes that make perfect souvenirs.
✪ Proceed to Pu Tuo Village – a truly unique attraction. Pu Tuo Village is a must-visit hotspot in Johor Bahru. Capture picture-perfect moments amidst the scenic bamboo groves that provide an enchanting backdrop. Be sure to try the one-of-a-kind bamboo tube ice cream, known for its exceptional flavors, which will surely steal the limelight in your photographs.
✪ Enjoy dinner at a local restaurant. After a day of fun and adventure, relish a delightful dinner at a local restaurant.
✪ Return to Singapore. As we bid farewell to a day filled with culinary delights and cultural exploration, carry with you cherished memories as you return home. We look forward to embarking on another exciting journey together in the future.
Package Details: Adult: $85/pax Child (11 years old & below): $80/pax
Package Includes: ✔ 40 – 45 Seater air-conditioned coach ✔ Malaysia tour guide assistance ✔ 1 durian lunch, 1 dinner.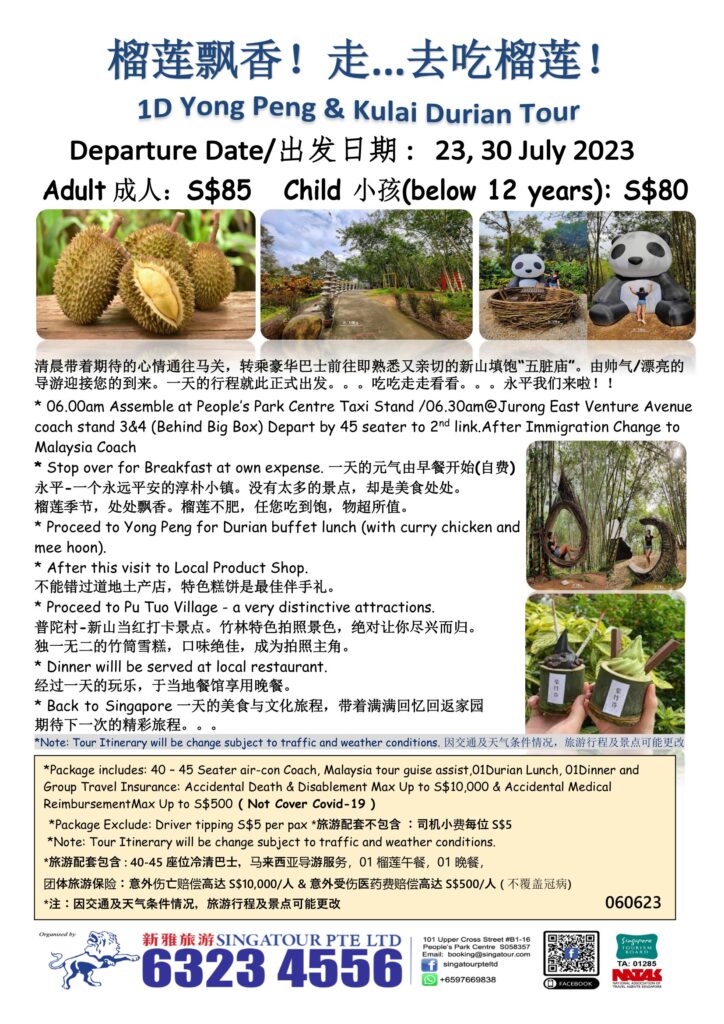 Singatour 1D Yong Peng & Kulai Durian Tour
Singatour Contact Number +65 63234556
Singatour Email Address: [email protected]