Singatour 2D1N Batam Durian. Depature Date: 22 & 29 Jul 2023
Depart from Singapore Ferry Terminal for Batam at 0950HRS.
Warm welcome and meet-and-greet by a local tour guide from Singatour upon arrival in Batam.
Enjoy a delectable durian buffet, indulging in the sweet and creamy flavors of Batam's famous fruit.
Relish a delicious lunch at a local restaurant, savoring the vibrant flavors of traditional Indonesian cuisine.
Check-in at Crown Vista Hotel or a similar accommodation for a comfortable stay.
Explore Batam's biggest shopping mall, offering a wide range of retail options for shopping enthusiasts.
Visit the popular Batam Infinity Beach Club and capture stunning photos against a breathtaking backdrop.
Experience the bustling Nagoya City Food Street, where you can sample a variety of mouthwatering Indonesian street food.
Start the second day with a tasty breakfast at the hotel.
Tour Batam's coffee factory to learn about the production process and enjoy aromatic coffee samples.
Visit a layer cake factory and witness the artistry behind creating this famous Indonesian delicacy.
Return to Batam Ferry Terminal for the journey back to Singapore, departing at 1300HRS.
Singatour 2D1N Batam Durian Package Include:
Roundtrip ferry ticket
1 night stay with breakfast
1 Durian Buffet
1 Lunch
1 Glass of Soft Drink at Infinity Beach Club
Singatour 2D1N Batam Durian Package Exclude:
Nagoya City Food Street to enjoy Indo local food (own expense)
Tour Guide Tips
Travel Insurance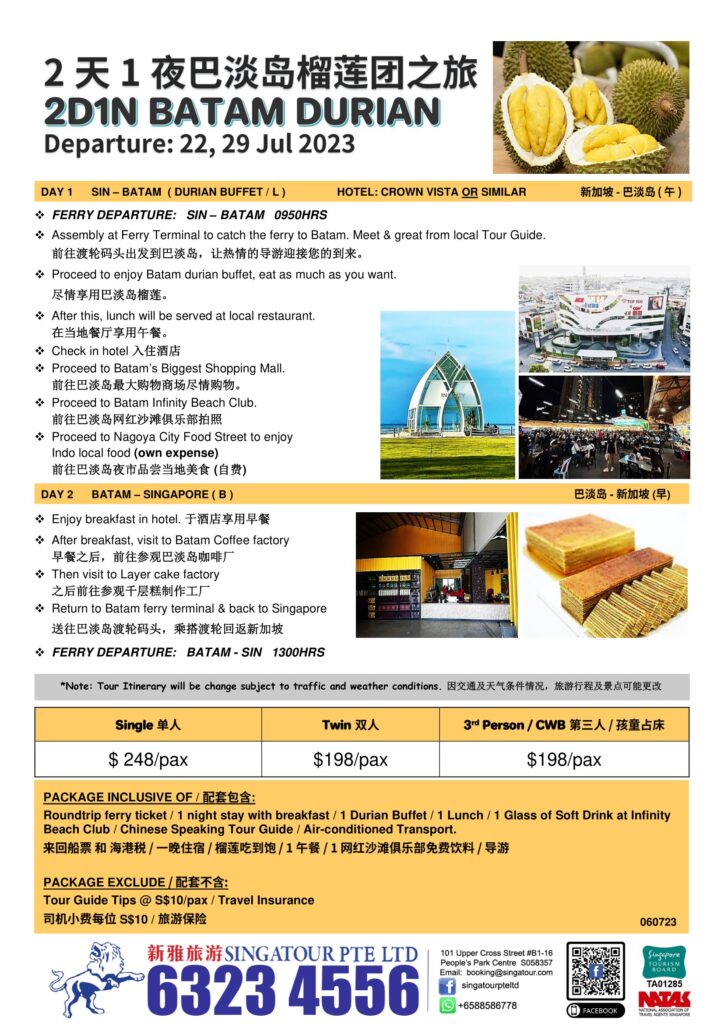 Singatour 2D1N Batam Durian Package Price:
Single: $248
Twin: $199