WTS Travel Cruise to Malaysia & Return by coach $99 for 3rd & 4th Pax. 4days3night
WTS Travel CRUISE-COACH ITINERARY
This package only applicable to Genting Classic, Silver or Gold member for First World Hotel
Departure dates:
Aug 24, 31
Sep 11, 14, 18, 21, 25, 28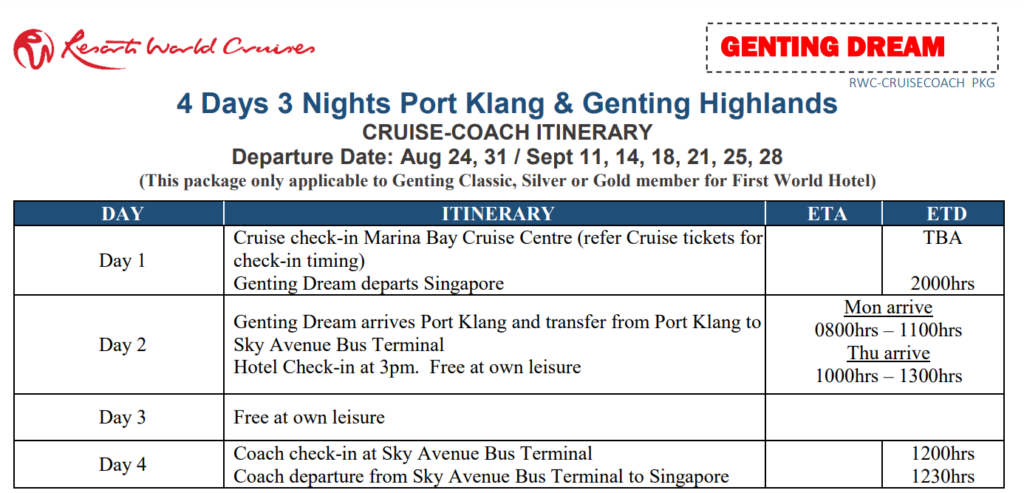 Package Price $169 Per Pax and Balcony $189 Per Pax. 2 person in one room

Package is inclusive of:
01 night onboard Genting Dream
02 nights at First World Hotel (Standard/Deluxe*)
One way coach/combi transfer from Port Klang to Genting
One way coach transfer from Genting to Singapore
Package exclude:
Gratuity Fees – Payable onboard cruise ($21/pax)
Cost of supervised Antigen Rapid Test (ART)

Notes:
Child / Infant fare is NOT applicable. Infant min. 6 months on the day of sailing.
"3rd & 4th" Pax strictly no bed at First World Hotel.
Additional room only at First World Hotel – S$35 per room per night
Hotel room allocation and configuration is subject to hotel's room availability at the time of check-in.
WTS Genting Package Jul-Sep 2022