About Kuching Marathon: Get ready to lace up your running shoes and experience the thrill of Kuching Marathon, an exciting event that brings together running enthusiasts of all ages. Join us as we take over the picturesque streets of Cat City, uniting the community in a celebration of health, determination, and sportsmanship.
Kuching Marathon 2023 Date: 1 October 2023
Race Categories: Whether you're a seasoned runner or a beginner looking for an exhilarating challenge, Kuching Marathon offers a range of categories to suit your fitness level. Choose from the following categories:
42.195KM: For those aged 18 and above as of 1 October 2023, this ultimate challenge will push your limits. Registration fee: RM 130.
21KM: Open to participants aged 16 and above as of 1 October 2023, this half marathon promises an invigorating experience. Registration fee: RM 110.
10KM: Designed for participants aged 15 and above as of 1 October 2023, this category is perfect for those seeking a moderately challenging run. Registration fee: RM 90.
5KM: A fun run for individuals aged 7 and above as of 1 October 2023. Participants below 7 years old must be accompanied by a parent or guardian who is at least 21 years old. Registration fee: RM 60.
Registration Process: Secure your spot in the Kuching Marathon by registering online through our user-friendly platform. Don't miss out on the chance to be a part of this exhilarating event! Register now and experience the thrill of running through the vibrant streets of Cat City.
Official website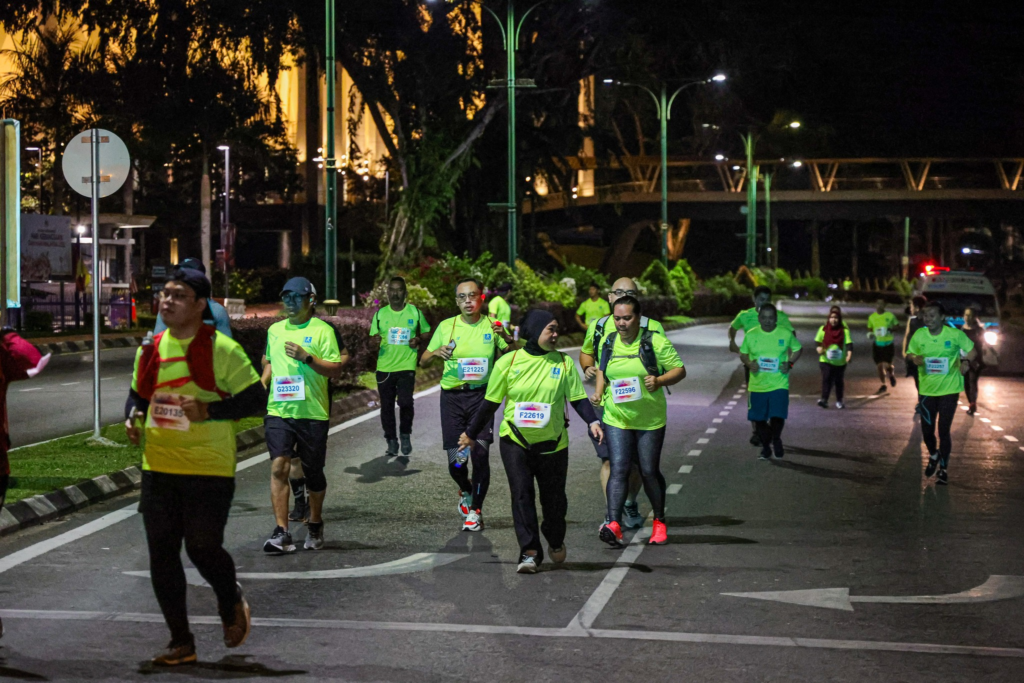 1. Kuching Full Marathon (42KM) – 1:00AM: Set your alarm early and prepare to conquer the full marathon, covering a distance of 42KM. The race kicks off at 1:00AM, offering a thrilling opportunity to test your endurance and determination.
2. Kuching Half Marathon (21KM) – 4:00AM: For those seeking a balanced challenge, the Half Marathon spanning 21KM begins at 4:00AM. Witness the city come alive as you embark on this journey, pushing your limits while enjoying the beauty of the route.
3. Kuching 10KM Run – 5:30AM: Lace up for the 10KM Run, commencing at 5:30AM. This category caters to participants who want a rewarding challenge without the intensity of longer distances, ensuring a memorable experience for all.
4. Kuching 5KM Run – 6:30AM: Early risers will delight in the 5KM Run, starting at 6:30AM. This fun-filled category is perfect for participants of all ages, encouraging a vibrant start to the day and fostering a spirit of togetherness.
Event Venue: Padang Merdeka, Kuching: The heart of the action is the iconic Padang Merdeka, located at Jalan Tun Abang Haji Openg, 93000 Kuching, Sarawak. This historic venue will witness the gathering of passionate runners, united by a shared goal of conquering their chosen distances and celebrating their achievements.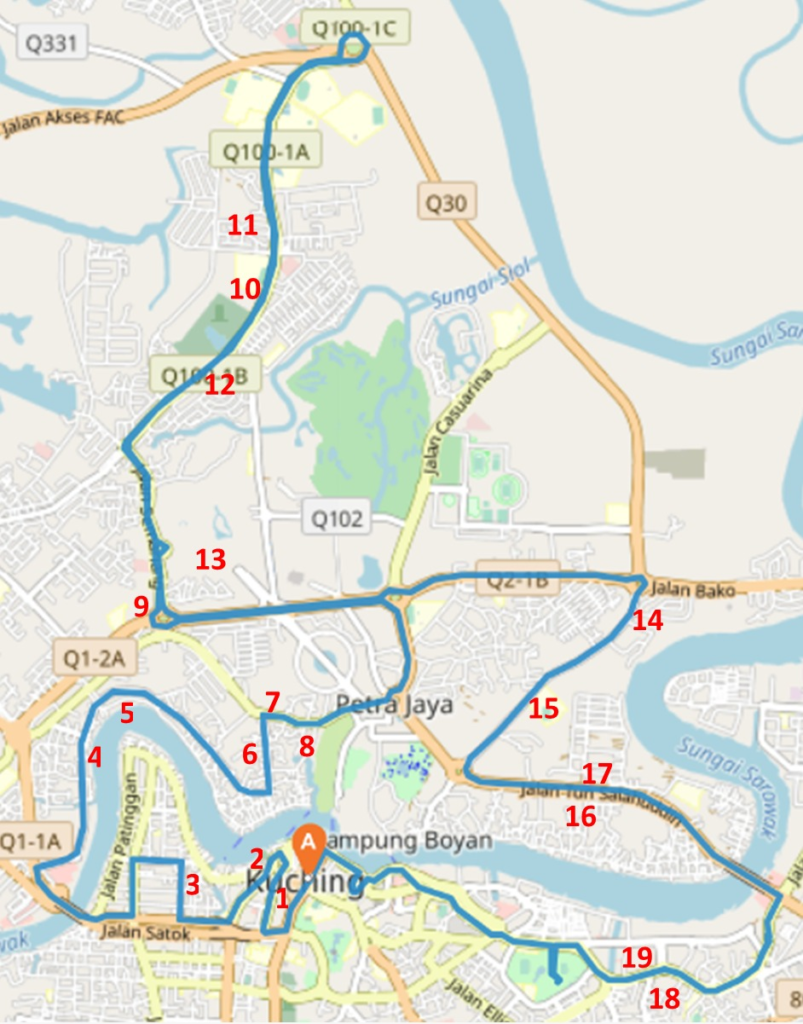 19 Masjid/Surau along 42KM race route of KM2023 are as follows:
1. Surau inside Plaza Merdeka
2. Masjid Bandaraya Kuching, Jln Masjid Bahagian
3. Masjid Al Hakim Kampung Muda Hashim
4. Surau Darul Hijrah, Jln Merdeka
5. Surau Darul Falah, Jln Merdeka
6. Masjid Darul Naim, Jln Hashim Jaafar
7. Surau Darul Ibadat, Jln Astana
8. Surau Darul Muhasibin, Lorong Petra 1
9. Surau @ Stesen Petronas, Jln Sultan Tengah
10. Surau Darul Ikhlas, TM Sarawak
11. Surau @ Shell Jalan Sultan Tengah
12. Surau Darul Hamra' Bomba Petra Jaya
13. Masjid Jamek
14. Surau Nur Addin, Medan Hamidah, Demak Jaya
15. Surau SMK Tun Abang Haji Openg
16. Masjid Darul Hana, Jln Tun Sallahuddin
17. Surau @ Stesen Petronas Ulu Bintawa, Jln Tun Sallahuddin
18. Surau Darul Hassan, Sungai Apong
19. Surau @ Stesen Petronas near i Com
Conclusion: Experience the adrenaline, the camaraderie, and the achievement of conquering Kuching Marathon. Lace up, train hard, and get ready to run Cat City with passion. Together, we will make this event an inspiring and memorable adventure. See you at the starting line!
Race pack collection will take place 3 days before Kuching Marathon race day from 28 September till 30 September 2023.
COLLECTION VENUE for Kuching Marathon:
Majma' Mall
41, Jalan P. Ramlee, 93400 Kuching, Sarawak