Scoot Baggage Allowance 10KG. For both Scoot and ScootPlus passengers, the cabin baggage policy permits up to two pieces of carry-on luggage. Your cabin bag should adhere to the following dimensions: 54cm x 38cm x 23cm (with a total linear size not exceeding 115cm) to fit comfortably in the overhead compartment. Additionally, your personal item or bag should fit within 40cm x 30cm x 10cm to be stored under the seat in front of you. Please note that any cabin baggage exceeding these stipulated dimensions will need to be checked in and may incur excess baggage charges.
Even with your bag stored under the seat in front of you, rest assured that you'll still have ample legroom, ensuring a comfortable journey on our flights.
By packing within these specified cabin baggage limits, you contribute to a smooth boarding experience. Effortlessly stow your carry-on in the overhead compartment and help enhance the overall travel experience.
Please be aware that infants do not have a cabin baggage allowance.
Cabin Class Cabin Baggage Allowance:
Economy: 2 pieces, maximum 10kg
ScootPlus: 2 pieces, maximum 15kg"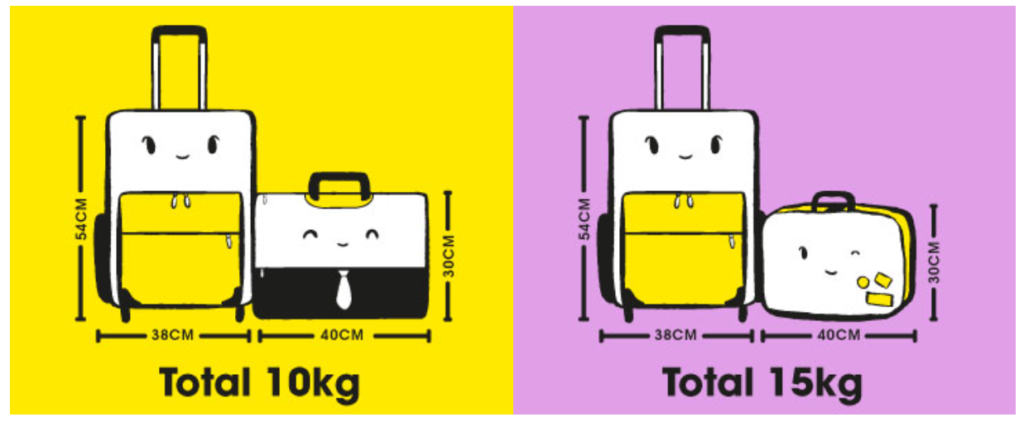 Checked Baggage Allowance
You can purchase up to 40kg of baggage allowance online. In line with local Occupational Health and Safety rules, each of your checked bags cannot exceed 32kg. You'll be required to repack your baggage if it exceeds the limit.
Upcoming Singapore Airline Travel Fair: